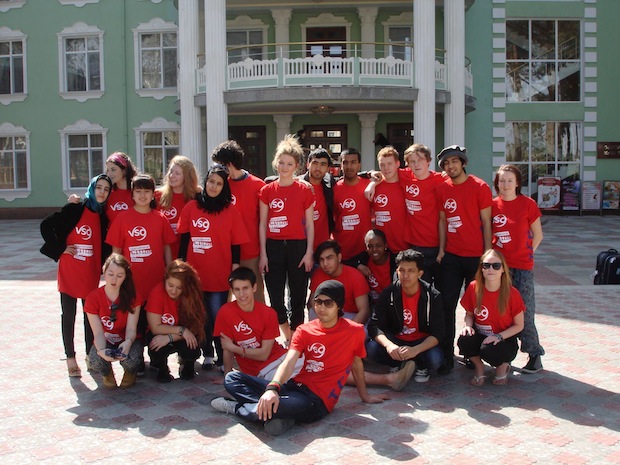 Regulars readers of my blog will know that I was pleased to part-sponsor Natasha McKenzie, a student from the Isle of Man, on her VSO gap year project to Tajikistan.
Natasha's project has now come to an end and she has just emailed me with news on her reflections on volunteering with the Voluntary Service Organisation.
Her final report is below. My colleagues at Luviair and I all wish Natasha the very best in the next stage of her education and career development:
Reflections on Volunteering in Tajikistan
"It has now been nearly two months since I left the amazing country, unforgettable friends and the simple yet such contented life that I had become so accustomed to in Tajikistan. On reflection volunteering with VSO in Tajikistan was truly the best thing I have ever done, and I am astonished by the doors that have opened to me through this one opportunity.
The biggest achievements of this trip include significantly improving an education centre in a rural community of Tajikistan by improving the facilities, methods of teaching and advertising. We also helped save a small business owned and run by several women from failing, by collecting orders from hospitals and orphanages around the city of Khujand. My favourite day included Tajikistan's childrens' day, where we visited schools and orphanages around the city taking toys, bedding, food and fun. The day was filled with dancing, face painting and games.
We finished the VSO project with a final presentation night held at and sponsored by Tajikistan's leading microfinance banks with a collection of comedy acts, poetry, singing acts and film documentaries from the various projects our  VSO team had worked on.  I was given the amazing opportunity to be the presenter of this night along with my Tajik counterpart and great friend Akobir.
Thank you Manx Youth Opportunities, Voluntary Service Overseas and all who donated money for this amazing opportunity and contributing to help overcome poverty one step at a time whilst also broadening the minds and opportunities of today's youth."