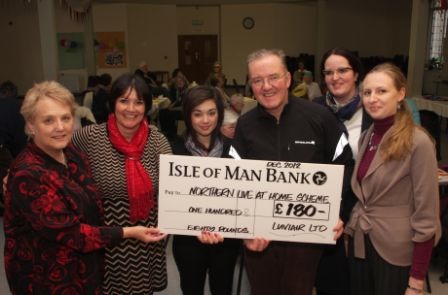 As people get older or need extra care, a big priority for many of them is to stay in their own home. Apart from enjoying their independence, folks like be in familiar surroundings with friends and neighbours they have known for years.
My colleagues at Luviair Helicopter Management support the IOM 'Live At Home' scheme by each putting £1 in the pot when we have a 'dress down Friday'. At the end of the year Luviair matches everybody's contribution and we make a donation to the 'Live At Home' organisers.
In 2012 Luviair donated £180. This year we're aiming for a little more.
Speaking to the publication iomtoday.co.im following a 'Jubilee tea' fundraising event, Jan Farrell, from the Isle of Man Live at Home Schemes, said: 'We are a small charity but we are working hard to support as many older people as we can on the island. This has been a success for us, not only through our members enjoying the day, but making the public more aware of what we do and perhaps consider becoming a volunteer or member themselves."
Please click here if you want to get involved in the Live At Home scheme.