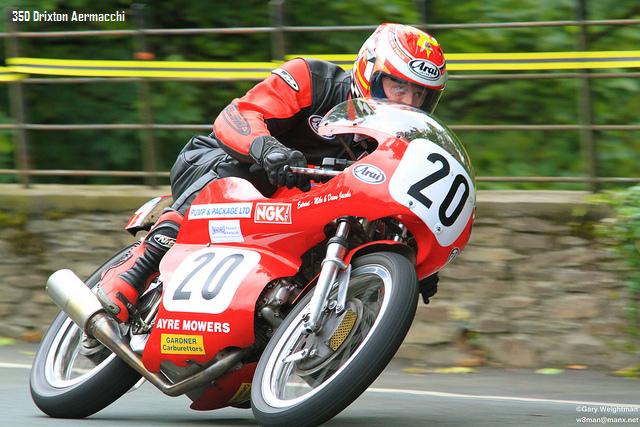 I have just had an update from Allan Brew, the classic motorbike racer who my helicopter management company Luviair sponsors.
Alan races two classic motorbikes: an Aermacchi 350cc and a Seeley G50 500cc.
Here's the report I just received from Allan on the Isle of Man:
500 Classic race.
"The first 10 started as per the program and then everybody else started based on their qualification times, so I started 15th for the 4 lap race. The conditions were good and I had a trouble-free race and finished 9th with a race average of 100.415mph. I was classified as a GP rider so received a bronze replica but would have won the privateers class if I'd have been classed 'privateer' !!
350 Classic race.
I started 17th for the race on the Aermacchi and just hoped for a finish as I can't remember the last time the macchi had completed the 4 laps. Again a trouble-free race, mainly on my own, apart from a couple of quicker Hondas passing. Eventually I finished 13th and received another bronze replica with a race average of 92.733, with my quickest lap of 92.998 beating my previous best.  I was really chuffed to get a solid finish on the macchi but again disappointed with the GP classification as again I would have been 1st privateer in the single cylinder class.
Formula Classic race
This was run concurrently with the Formula 1 and 2 classes with us the last away at the back of the field. I started 2nd behind Mark Parrett but had been 6th fastest in practice on Ferry Brouwers' 350 Yamaha and expected to get passed early on. Barry Davidson passed me first but he didn't disappear quite as quickly as I expected, the 350 was flying as I was getting more used to it. On the 2nd lap I had problem with a loose exhaust and expected to get black flagged but didn't ! At the end of the 3rd lap I tipped into Governers' dip and the motor stalled. I tried to restart but without success, so that was race over. Shame because I was in 4th place at the time."