In April 2019, Luviair published an article in the Isle of Man's Premier Lifestyle Magazine: Gallery. Co-written by myself and Nigel, it primarily serves to showcase Luviair's excellent strategic aviation management. It also allowed us to formally introduce our AS365 N3 for sale to the Isle of Man market.
View the full listing for M-LVIA 👉 here.
View Luviair's website 👉 here.
View the full article in the online edition of Gallery 👉 here, on page 52.
Or keep reading the full article below.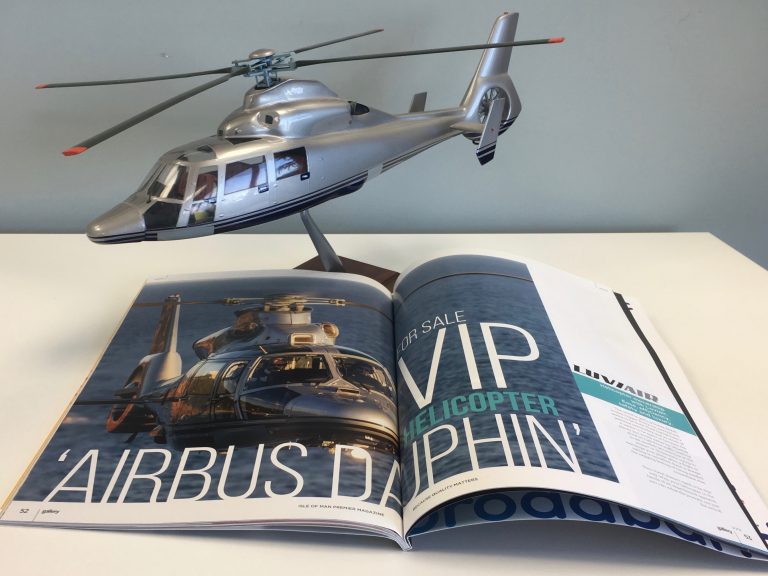 "Helicopter Ownership with Luviair: ease, efficiency, safety and luxury." 
•••
The world is getting busier, faster, louder, bigger. Everyone, everywhere seems to be busy. Time has become a precious commodity, and so much of it seems to be spent in between the places you would rather be. Whether stuck in rush-hour traffic, waiting in yet another security line at the airport or desperately trying to rearrange your plans when a flight or sailing is cancelled, there is always the nagging feeling of being needed somewhere else.
Your travel doesn't need to be this way. With your helicopter in the hands of an experienced operator, you can value the journey, not just the arrival.
Enjoy your Journey
The experience begins on the way to the helipad. However you make your way there – by driving in your Porsche, getting picked up in a limousine, or strolling into your back garden – you can arrive relaxed with the knowledge that your helicopter will be ready to go when you are.
Your hand-picked helicopter crew will welcome you onboard. You can relax inside a luxurious, customisable VIP cabin, catching up on some work or admiring stunning views. With a capacity of up to 5 people, and accompanying luggage, you can bring your friends and family along for the ride as well. You will then be seamlessly flying through the air at 170 miles per hour, and able to go almost anywhere in the British Isles from the Isle of Man. The only thing stopping you from going further is a stop to refuel, and that is easily achieved. In almost no time at all, your pilots are welcoming you to your destination. You won't need to wait an eternity to disembark the aircraft, pace around the baggage reclaim area, or search for your airport pick-up driver. Instead you can continue with your trip, away from the public eye, hassle-free. Your helicopter can grant you continuity of travel with minimal distractions along the way. This can enable you to relax and fully experience your journey – from home, to helicopter, to jet, to yacht, the choice is yours.
Go anywhere, see anything.
The best thing about a helicopter is that it's not a plane. You can land almost anywhere since you don't need a runway – and we really do mean anywhere. You can go heli-skiing in the Alps, heli-fishing in the Pyrenees, heli-cycling in Scotland, heli-rafting in Provence, and heli-dining in some of the best restaurants in Europe. You can arrive in style and avoid the hectic masses at the Monaco Grand Prix, Cheltenham Races, Glastonbury Festival or even the TT Races on the island.
By embarking it on your yacht, you can expand your world into the realm of heli-yachting, island-hopping in the Caribbean and Hawaii or touring places like Greenland and Alaska. Heli-yachting is not a new concept, but it has evolved tremendously over the last 20 years. At Luviair, we have many years of experience coordinating Heli-yacht operations, with our client helicopters on the back of yachts cruising all over the world. This is vital to ensure that your transition from the air to the sea is completely seamless.
With the amazing technological capabilities of today's helicopters, you can fly in more conditions than ever before. Instruments enable you to fly at night and in adverse weather conditions. This does not mean you can fly in any conditions, but you can rely us to get you where you need to go in total safety and security, when other modes of transport get stopped in their tracks.
Safety and Security
The levels of privacy, discretion and security that surround a helicopter are almost unparalleled. It is contained to you, your team and your operator. You can avoid the crush of the commuter throngs so often populating public transport networks. Behind the scenes, your operator has ensured that your helicopter is perfectly maintained, your pilots are expertly trained, and your operations officers have eyes on the journey at all times. In the hands of an operator like Luviair, you won't see any this. All you need to do is step aboard. We will handle the rest.
All the ways to fly
A helicopter is meant to be flown. It works best when it is being used. If you are flying less than 150 hours a year, maybe full ownership isn't the best way to go. But this doesn't mean that you can't get in the air. If you want to fly every now and then, charter flights are an ideal solution. This is just like booking a taxi: where shall we pick you up, where do you want to go and when would you like to leave? If you think you'll be flying more regularly, but can't justify the commitment to your own aircraft just yet, you can consider leasing one. Another popular route is to participate in a fractional ownership scheme. This is where you own a piece of an aircraft, along with a group of other enthusiasts, or perhaps split amongst a group of friends. Many large corporations have a corporate helicopter, owned by the company and used to carry executives between meetings. Alternatively, if you want the exclusivity and flexibility of your own aircraft, but would like to offset the costs, you can list it on our Air Operator's Certificate, and make it available for charter. Again, choosing the right operator is crucial to guarantee your helicopter is in the hands of someone you trust and someone who will put your needs first.
•••
M-LVIA – the best VIP AS365 N3 on the market
The only way to truly understand the experience is to come and fly for yourself. One of our fleet, an Airbus AS365 N3, is for sale and is coming the Isle of Man in April. If you are considering entering the world of helicopter ownership, call us to arrange a demonstration flight onboard our beautiful VIP helicopter 'M-LVIA'.
View the full listing for M-LVIA  👉 here, including a range of stunning photography and videography.
Or you can always get in touch directly – details are on my 👉 contact page.
View the full article in the online edition of Gallery  👉 here, on page 52.