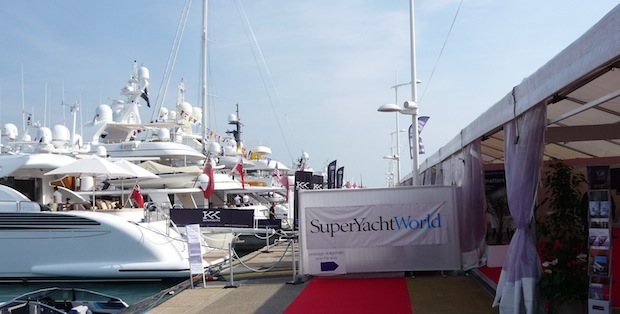 At the Antibes Yacht Show, April 2013, Nigel Watson was on the panel of a seminar presentation on 'Ethics in the Superyacht Industry'. Fellow panelist was John Wyborn, co-founder of Bluewater Yachting. The panel chairman was Ken Hickling, Global Manager of Awlgrip and President of the International Superyacht Society.
Ken Hickling introduced the seminar by summarising how the superyacht industry has grown in recent years. "From a cosy, cottage industry 25 years ago, the superyacht market is now worth 24 billion Euros, supporting some 6,000 companies and 130,000 people. And yet," Ken continued, "although there are 90,000 people in the world who have the wealth to own a superyacht, there are actually only some 4,500 owners. That's about 5% market penetration."
The panel argued that one of the factors limiting yacht ownership was a general perception that the yachting industry is rife with backhanders. As John Wyborn of Bluewater said: "If a potential owner imagines they're going to spend $100 million on a superyacht but only get $70 million worth of value, that's a major deterrent to investing in our industry."
Nigel Watson agrees. "If the entire industry would adopt the business principles of integrity, honesty, trust and professionalism, I'm sure this would lead to more investment filtering down from the top as potential owners felt confident they were getting value for their money."
Both Nigel and John told the audience how they were keen to carry on the work in creating an ethical benchmark for the yachting industry which had first been proposed by superyacht captain Peter Jago, who passed away in 2012. "Peter was an inspiration to all of us," recalled Nigel. Nigel and John had both started their superyacht careers under the guidance of Peter Jago.
As the presentation came to a close, Ken Hickling told the audience that an ethical charter was being well received by various groups, including the MYBA and special interest groups like those representing builders and brokers. "We're very pleased," Ken added, "that the Marine Industries Association of South Florida (www.miasf.org) is scheduled to ask its members to comply with the code at the American Superyacht Forum in Las Vegas this year, so the ethics initiative will have international reach."
If you have any views or comments on the subjects of business ethics in the superyacht industry, please email nigel.watson@luviair.com.
L-R: Nigel Watson, John Wyborn and Ken Hickling presented 'Ethics in the Superyacht Industry'.
Please re-tweet this story.
Business Ethics In The #Superyacht Industry. #Antibes Yacht Show presentation. nigelwatson.im/?p=341

— Nigel Watson (@nigelwatsonIM) April 29, 2013