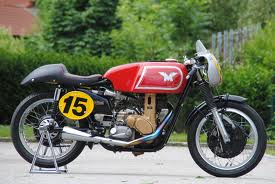 Our sponsored classic motorbike rider, Allan Brew,
has had a busy July.
At the beginning of the month Allan competed at the
Skerries. His practice sessions went well, with Allan
3rd quickest in the 350cc category, and 2nd in the
500cc category.
Allan said that his bikes felt a little sluggish, but he
managed to take 3rd place in the 350 race. In the
500/100 event, Allan started 2nd on the grid but
was in 6th place at the first corner! Allan was
starting to win back places when his drive belt
snapped and his race was over.
YouTube video.
To get an idea of the speed the motorbikes travel
at, here's a YouTube clip from the Skerries Road
Race final of the 1000cc class.